Artemis Solutions Group is an Authorized Reseller of Number Five Software.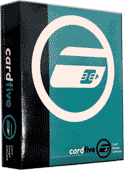 Card Five Software
Our Discounted Price - Starting at $99.95



Professional software for plastic card printers. Design cards, build databases or use your own databases to print cards. Encode magnetic stripe, smartcards, proximity cards. Data entry, video and digital cameras direct acquisition to card or database, selective print by queries or multiple selections.
Use your data to print text, barcode or encode it on a card. Security features, overlay management and much more.

Design your world in a Card! The leader in Card design software, Cardfive is powerful but yet very easy to setup and use.
With all the features needed to handle cards, you have total integration environment and versatility.
With this multifunctional program you can link the design databases, encode magnetic stripe, process smart cards, create effects and manage overlay, hologram or scratch ribbon.
The fully integrated environment allows you to easily manage your design and printing jobs.

The easy database feature allows you to use as simple data entry and print software.

With power imaging features you can integrate any picture format from digital photo cameras, real time imaging through Video for windows, or any other images in the database.

Cardfive can print using DCL (Direct Command language) to the most popular card printers in the market and virtually any printer through drivers, including page printers.

Access security to card printing is provided via Keyfive and logins and network licenses are available for corporate solutions.

Cardfive is available through different Editions in order to meet users needs and budgets with the most economical version starting at UNDER $100!

You can order your Cardfive with Face Snap plug-in, a software that identify a face on a picture, crop the face out of the scene and improve image quality by artificial intelligence applied to computer vision.
VERSION 7.0 Released - Order yours today


Available soon, CardFive 7.0 will present a revolutionary revision of the current user interface. As a result of usability tests done by NFive, CardFive workspace and toolbars were revised and new functions tools were added in order to integrate a more funcional system.
What´s New New toolbars with new functions for object properties. The result is a set of tools per object like color, rotation, alignment, etc
New DCL´s for Evolis Quantum, Evolis Dualys, Zebra P 330i and Zebra P420i
What´s Changed Workspace Revision for a better management and user friendly integration. Major functions are now available through a simplified method, allowing a more user friendly environment. Following the principle of minimum clicks to execute an operation, toolbars will now include a more clear structure.
CardFive 7.0 is a more complete application, offering better performance and integration between design capabilities and user friendly solutions.